What a chase: Sajal, Asim, others congratulate Pakistan on record-breaking win
In what can only be called a riveting display of sportsmanship by Pakistan's cricket team, a seemingly lost match against Sri Lanka was flipped on its head and swept away by the men in green. Despite the target, Abdullah Shafique hit 113, and Mohammad Rizwan emerged as a hero, scoring 131 not out, as Pakistan defeated Sri Lanka by 6 wickets to record the highest chase in World Cup history.
As a consequence, the internet erupted with congratulatory messages for quite possibly one of the few teams in the world that know how to put up a nail-biting finish. "Alhamdulillah, congratulations to all," began fan-favourite cricketer Naseem Shah. "Not sure about you but I was nervous watching. Mohammad Rizwan and Abdullah Shafique were incredible from start to finish. Brilliant performance from the team. Keep going boys, keep breaking records! Pakistan Zindabad."
Actor Osman Khalid Butt penned on X, "Congratulations team Pakistan! What a match. We chased 345! The dream lives on. Highest successful chase ever in a World Cup!" Global Pakistani star Kumail Nanjiani wrote on the microblogging site, "Congratulations Pakistan. What a chase. Rizwan and Abdullah with wonderful centuries under pressure." He followed this up with a joke about "sometimes-it's-cramp-sometimes-it's-acting" Rizwan, advising him to have some bananas before the match. Asim Azhar, who was sharing his thoughts throughout the match, penned, "Highest ever run chase in the history of the world cup. Pakistan cricket for you," at the end of the match.
Over on Instagram, Salman Saquib Sheikh, affectionately known as Mani, shared a series of Instagram Stories wherein he was seen applauding the team and key players. "Highest chase ever, just because of Rizwan and Abdullah," he wrote on his Story. "The real king is Rizwan, the rest are overhyped," shared the star. Mani also shared a picture of Rizwan, calling him "the real king" and "dependable." Furthermore, he shared an image of Abdullah and wrote, "You have got style, technique, and the best thing is when you perform." He added that the cricketing star does not tire easily.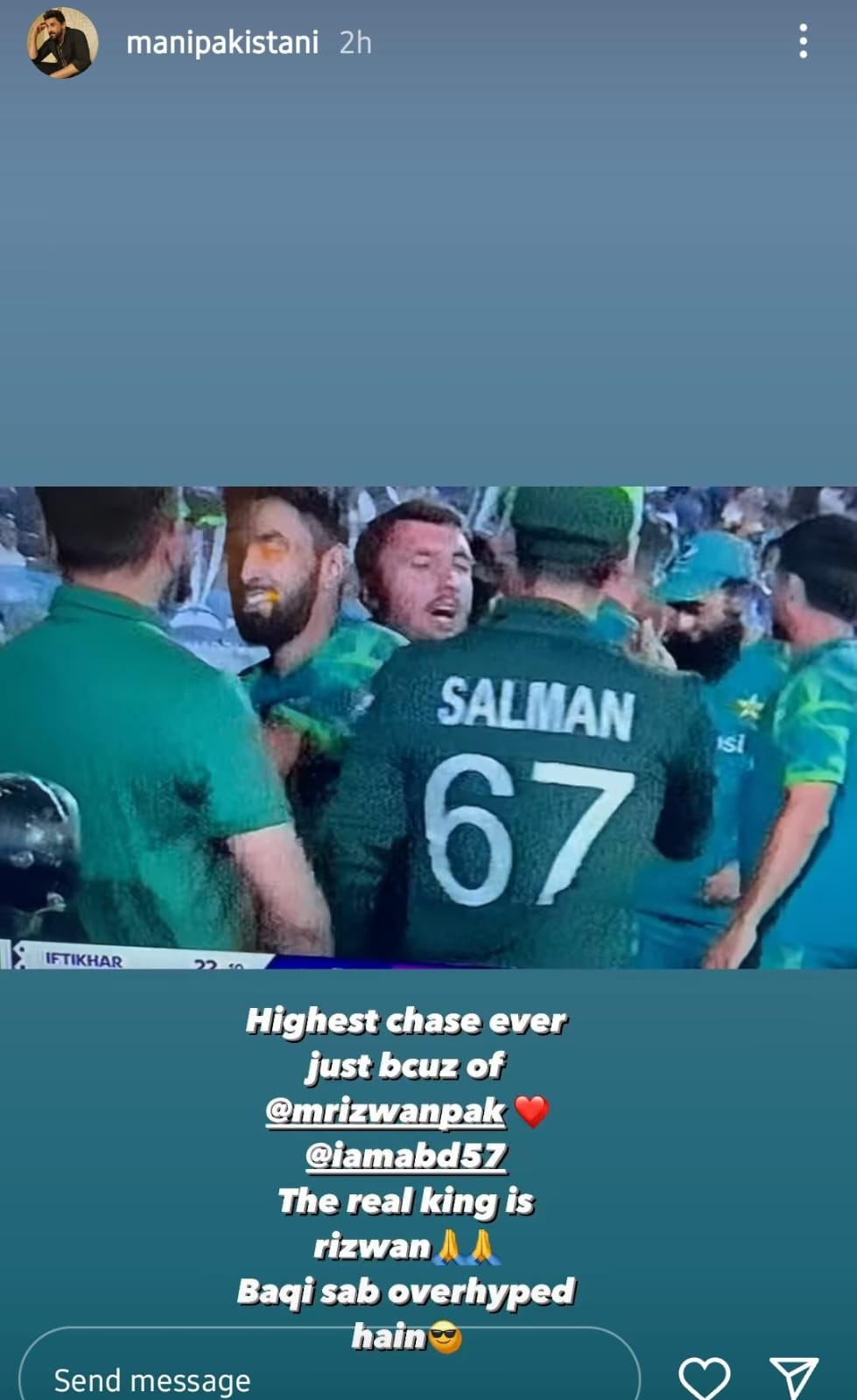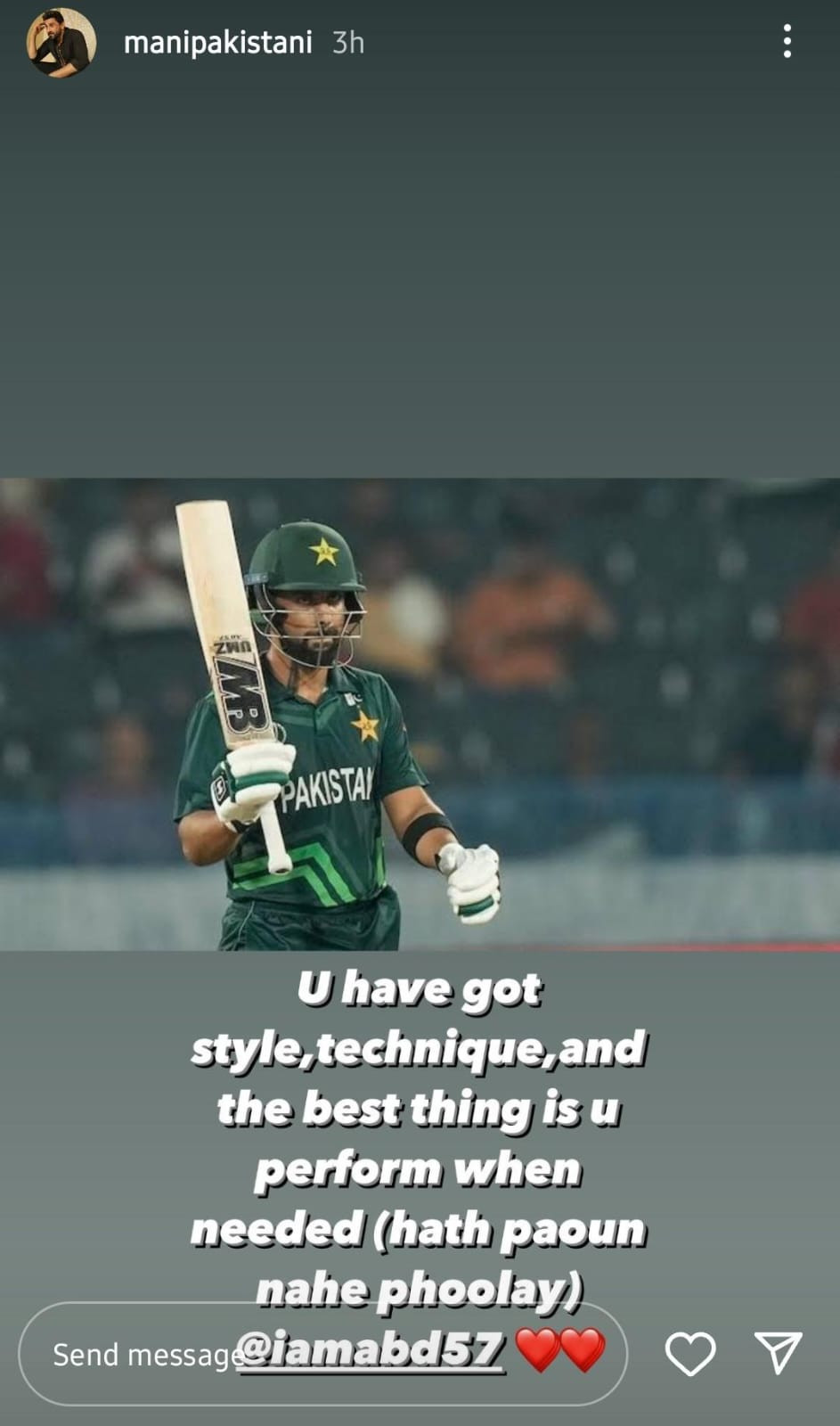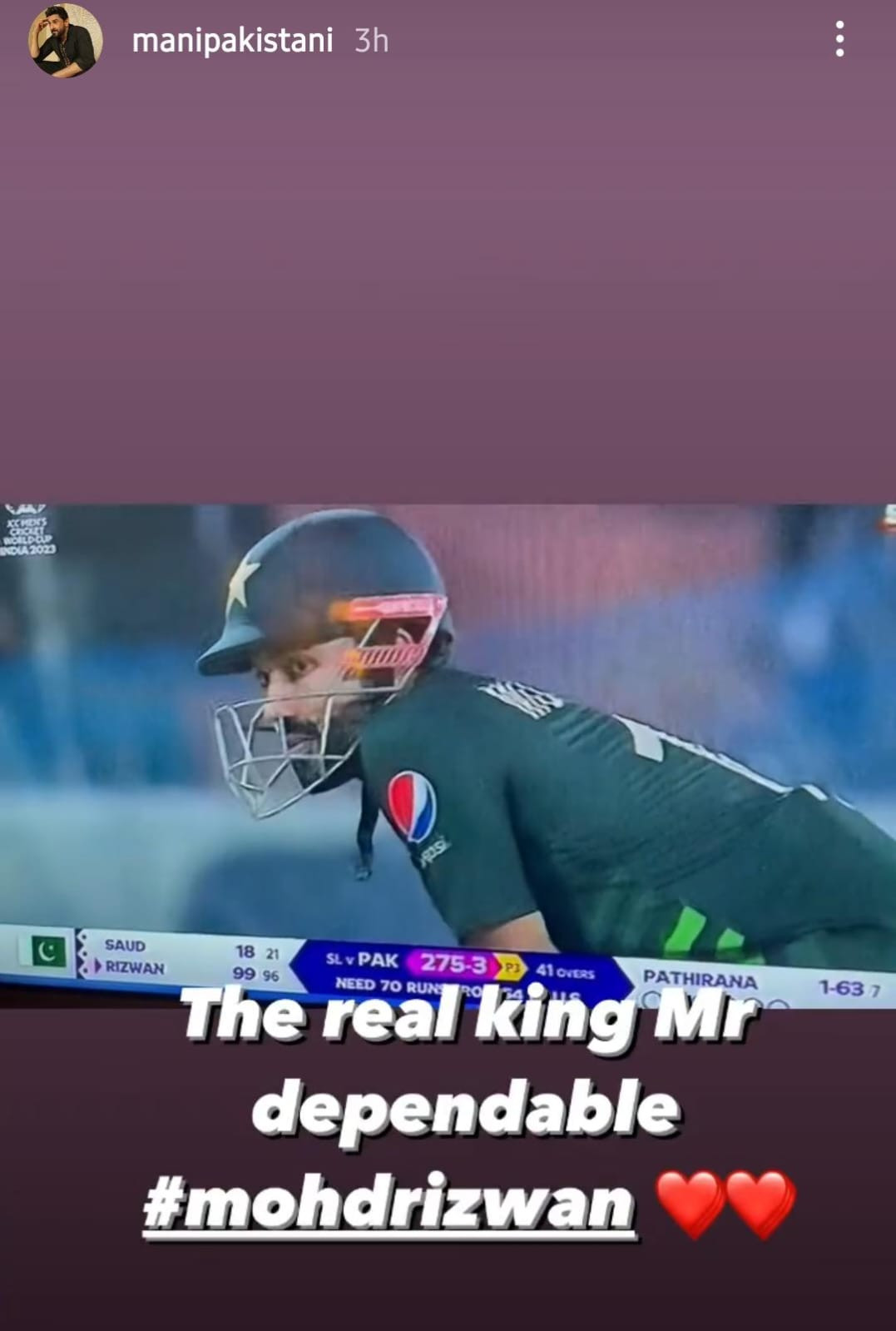 Sajal Aly, too, took to her Instagram Story to congratulate the team. "Pakistan has chased the highest total in CWC history," wrote the star. "Congratulations on the unprecedented chase!" Singer Goher Mumtaz shared a screenshot with Rizwan's name and score, calling him a "real hero."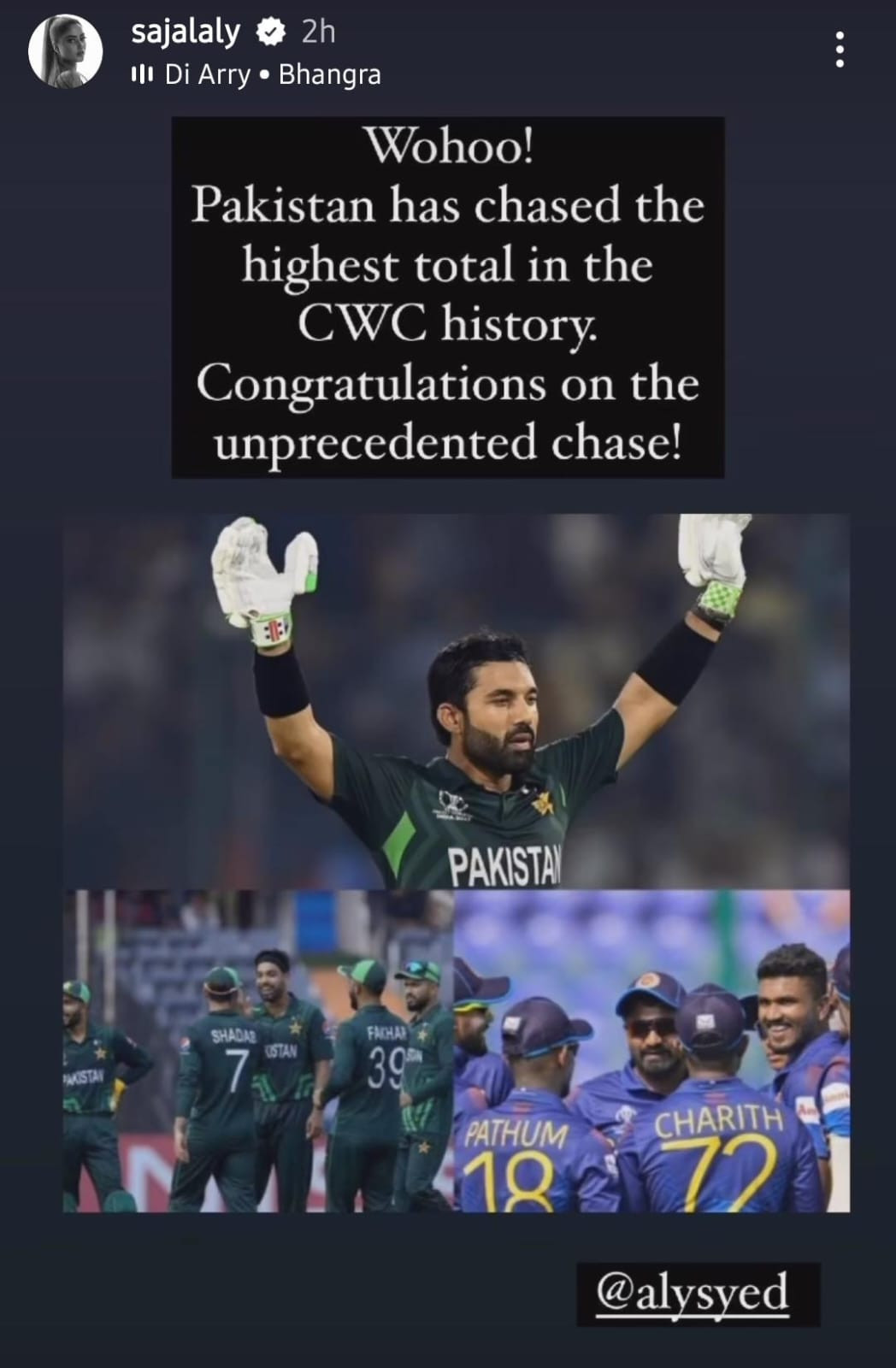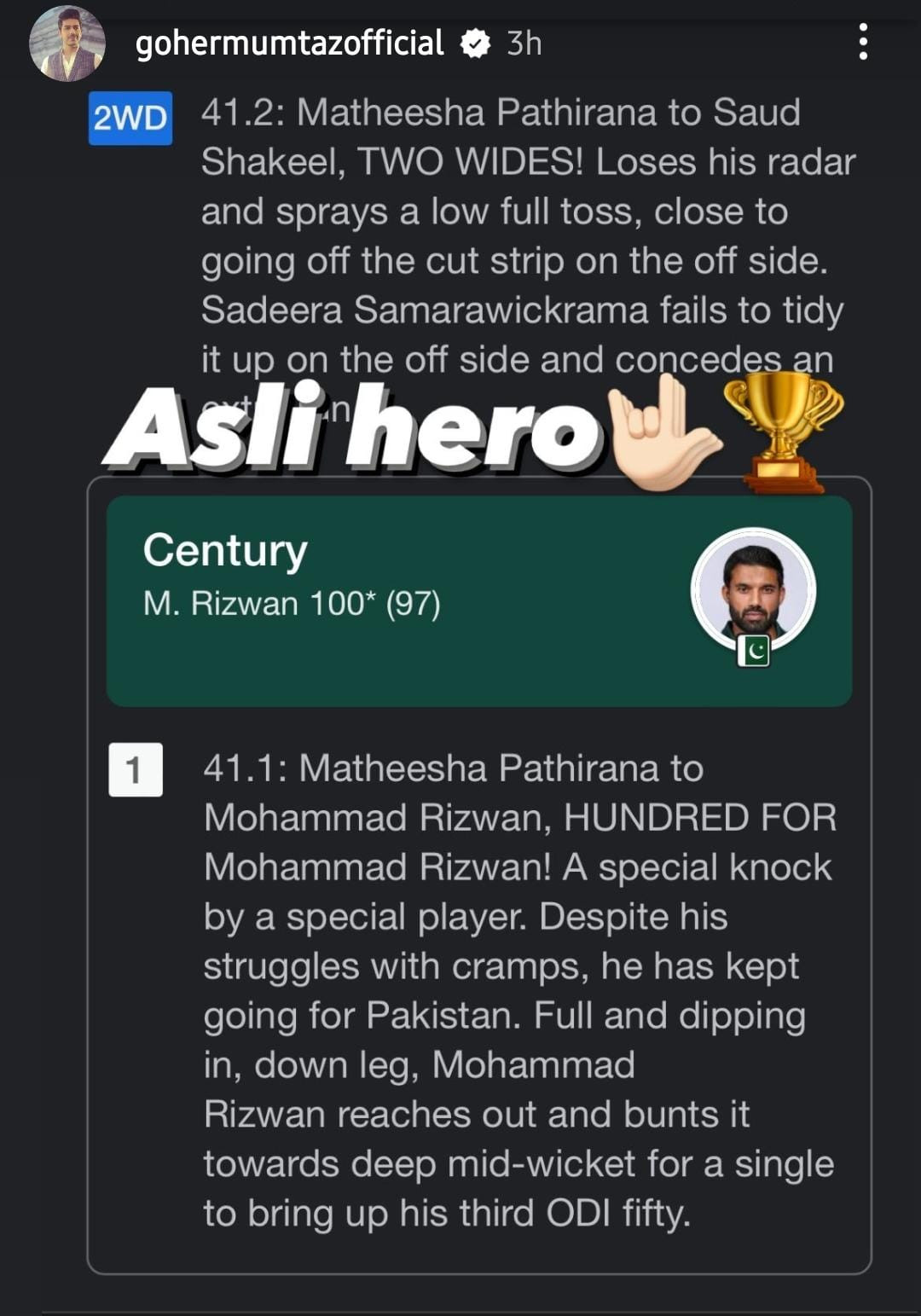 Ali Kazmi shared a photo of Rizwan kneeling in gratitude, his hands held up in prayer, penning alongside, "What a win Pakistan! Rizwan, what a knock! World-class cricket." Fahad Sheikh shared on his Instagram Story, "Wow, Pakistan. Wow. Congratulations. What a win."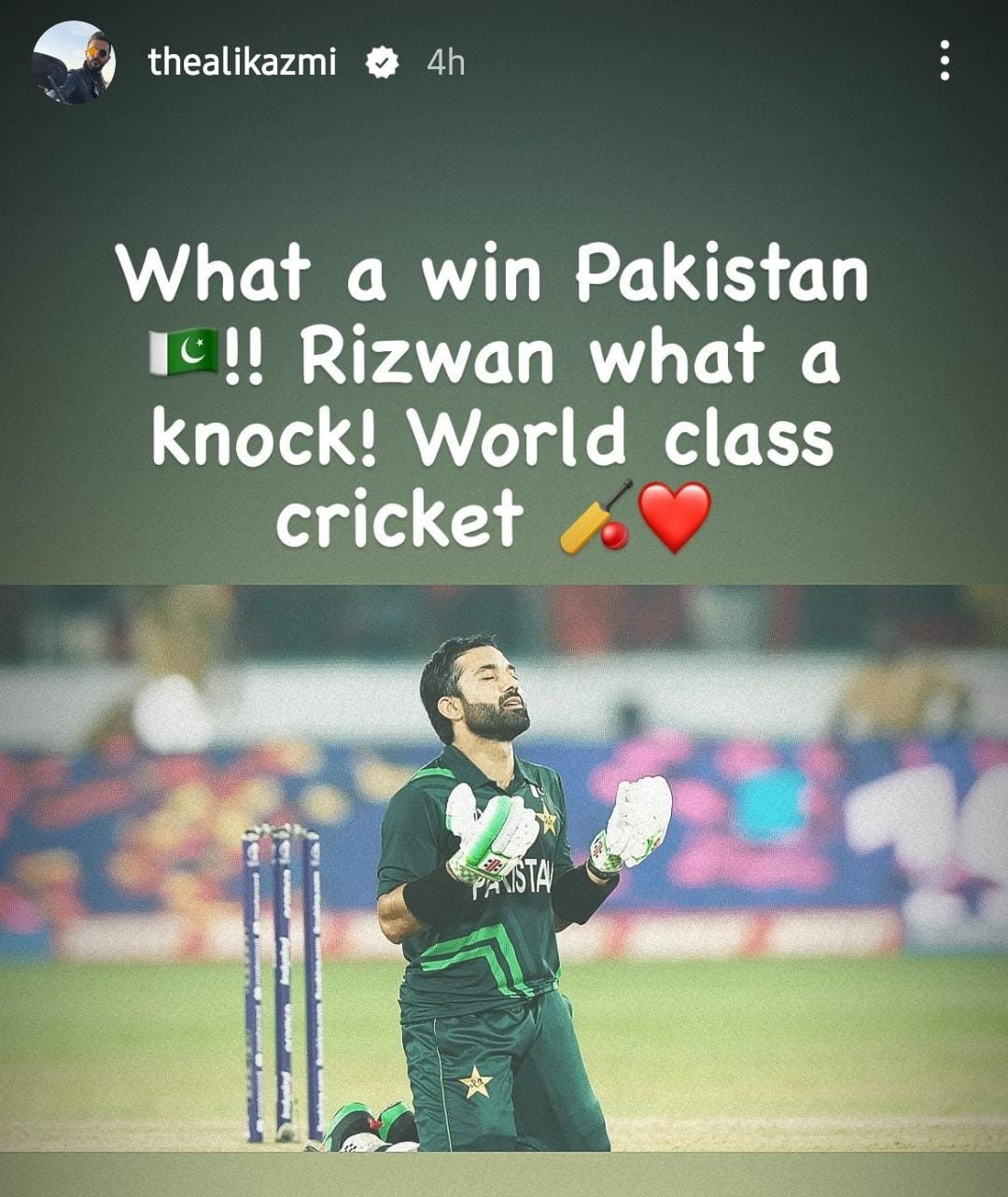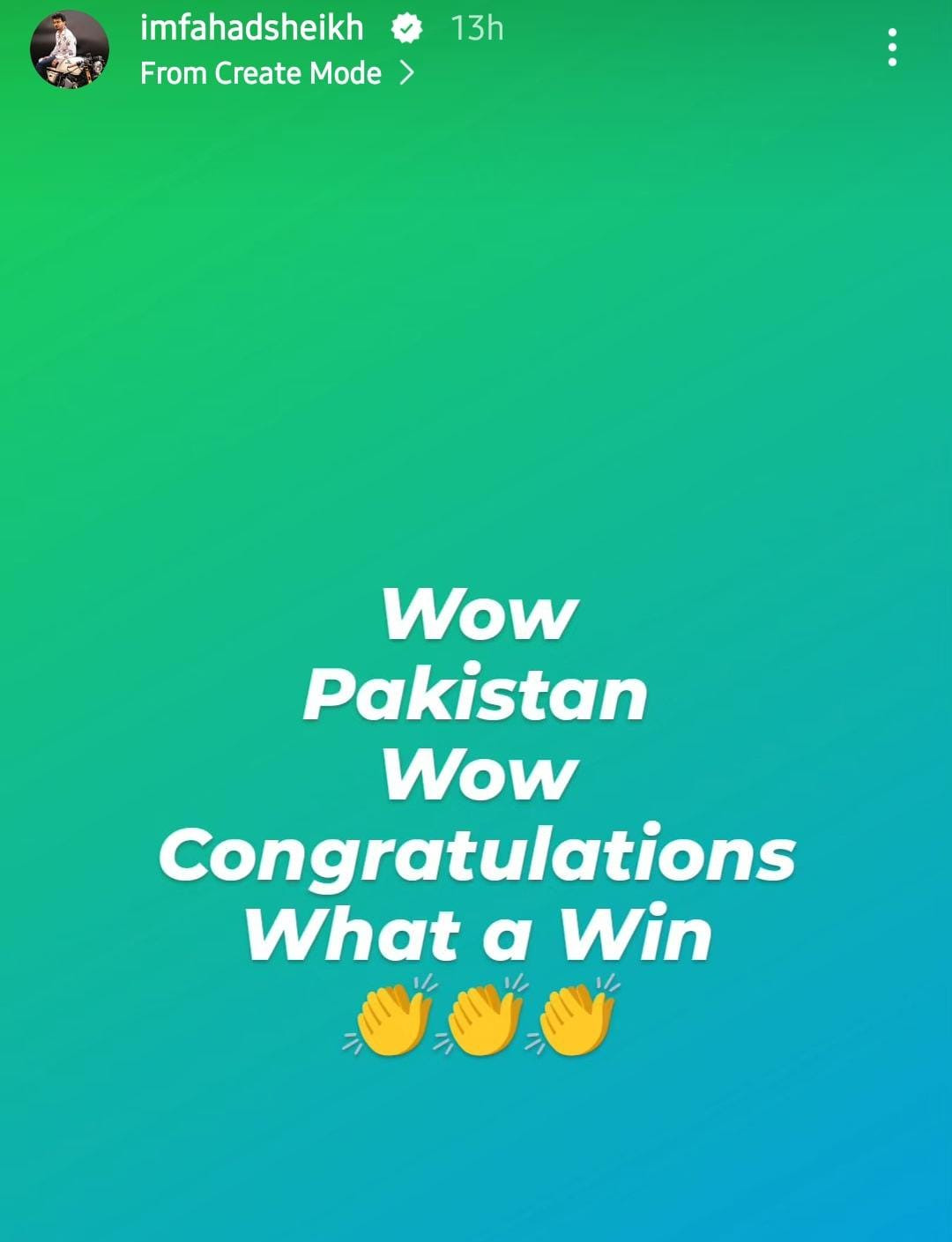 As congratulations keep pouring in, all eyes are on the beloved team's next match. Here's to a series of victories, all the way up to the final.