Transit trade widely misused
ISLAMABAD: Afghanistan's imports through Pakistan under the transit trade facility rose nearly two-thirds to $7.3 billion in the last fiscal year and the imports comprised a major influx of goods that Islamabad did not buy from international markets for its own consumption due to the external payment crisis.
There seems to be some correlation between the surge in transit trade and the decline in Pakistan's purchases. Out of the increase of $2.8 billion in imports under the Afghan transit trade (ATT) in the previous fiscal year, about $2.3 billion was on account of goods that Pakistan did not import due to the balance of payments crisis, showed official statistics.
Afghanistan imported $7.3 billion worth of goods through Pakistan in fiscal year 2022-23, which ended in June this year. Imports were $2.8 billion higher than the preceding fiscal year.
Pakistani authorities have run an analysis of its own imported goods that showed a double-digit dip during the previous fiscal year and compared with the increase in goods import under transit trade. It was revealed that some of those goods were imported under the ATT Agreement but then smuggled back to Pakistan.
Two days ago, the government took a raft of measures, including a complete ban on the import of goods under the transit deal, imposition of 10% fee on some other imports and a new condition of bank guarantee equal to duties and taxes in order to ensure that the goods imported by Afghanistan reached their final destination.
The commerce ministry issued the Statutory Regulatory Order (SRO) and amended a 2004 order that governed the country's import and export regime. It banned the import of tyres, black tea, nuts and dry fruits, fabrics, cosmetics, vacuum flasks and home appliances under ATT.
An analysis of 20 major imports of Afghanistan showed that in FY22 Kabul spent $3.3 billion on their imports, which jumped to $5.6 billion, or 70%, in FY23. In the case of Pakistan, the import of those items dropped.
There was a 48% reduction in imports of synthetic fabric by Pakistan but imports of the product through ATT registered a 35% increase during the previous fiscal year, showed the official statistics.
Similarly, Pakistan's imports of electronic equipment decreased 62% but imports of those goods by Afghanistan increased 72%.
Being a landlocked country, Afghanistan has the right to import goods for its consumption through Pakistan's sea, air and land routes. However, various government studies and intelligence reports have proved the misuse of transit trade agreement.
Afghanistan has never taken the responsibility of smuggling and rather blamed Pakistan for its lax enforcement measures. Afghanistan also does not accept Pakistan's stance of mismatch between its consumption and imports. It insists that being a trading nation, it also imports goods for their sale to the landlocked Central Asian States.
Pakistan has banned the import of black tea by Afghanistan through its territory. Data showed that in FY23 there was a 59% increase in Afghanistan's tea imports compared to a 9% dip in imports in the case of Pakistan.
Islamabad has also banned the import of tyres by Afghanistan. In the last fiscal year, the import of tyres by Pakistan decreased 42% but there was an increase of 80% in imports by Afghanistan.
There was also an increase of 211% in machinery imports by Afghanistan compared to a 51% reduction in Pakistan's imports.
Pakistan saw a 34% dip in plastic imports in the last fiscal year but Afghanistan's imports surged 206%. Pakistan's imports of vacuum flasks decreased 28% but there was a 114% increase in their import through transit trade.
Imports of cosmetics by Pakistan decreased 27% but Afghanistan's imports increased 117%.
Although Pakistan has taken administrative measures to offset the impact of growing transit trade on its economy and external sector, Afghanistan may also retaliate by discouraging Pakistan's exports to Central Asia via its territory, said a senior government official.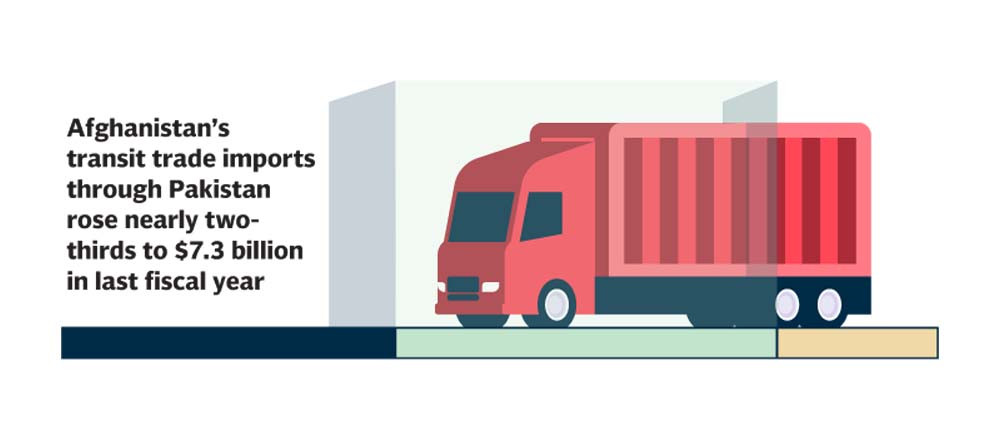 There is also no clarity whether the government has taken these steps purely for economic reasons or these have been used as a strategic tool to force Afghanistan to take measures against the Tehreek-e-Taliban Pakistan (TTP), which is involved in sabotage activities and operates mainly from Afghan soil.
In 2010, Pakistan and Afghanistan signed a revised transit trade agreement for five years by incorporating new rules, protocols and procedures to track shipments and strengthen safeguards against smuggling.
The old agreement is being extended every year as both sides have not been able to resolve differences over the new treaty.
Under the 2010 Afghanistan-Pakistan Transit Trade Agreement (APTTA), Afghanistan has greater access to Pakistan's ports while new transit corridors that facilitate Kabul's transit trade were added to the original list. Clauses like the negative list for Afghanistan's imports were done away with. Now, this negative list is being revived.
The transit trade agreement allows Afghan trucks to carry export goods to Wagah border but it does not allow imports through Wagah.
Afghanistan is seeking free movement of goods including from India through the land route. This condition is not acceptable to Pakistan, according to sources.