Sharp drop in worker remittances
KARACHI:
The inflow of workers' remittances sent home by overseas Pakistanis through official channels remained low at $2.09 billion in August 2023, adding to pressure on the country's capacity to pay for imports and repay the maturing foreign debt.
According to the State Bank of Pakistan (SBP)'s data released on Monday, the remittances from expatriate Pakistanis dropped by almost 24% to $2.09 billion compared to inflows of $2.74 billion in August 2022.
The apparent strengthening of the illicit Hawala and Hundi network restricted remittances through official channels as many non-resident Pakistanis opted for grey markets, which were offering a Rs20-25 higher price for each dollar compared to the price quoted by official channels including commercial banks and authorised foreign exchange companies. Overall, in the first two months (July-August) of current fiscal year 2023-24, the remittances slumped 22% to $4.12 billion compared to the receipt of $5.26 billion in the same period of previous fiscal year.
Inflows, however, improved by 3% to $2.09 billion in August when compared with remittances of $2.03 billion that arrived in the prior month.
Talking to Daily City News, Ismail Iqbal Securities Head of Research Fahad Rauf said workers' remittances in August were well in line with market expectations. "The remittances figure, however, is not encouraging compared to inflows of over $3 billion in a month in the recent past."
He pointed out that the black market was offering a price higher by more than Rs30 for a dollar at Rs335-340/$ compared to slightly over Rs307/$ in the open market early last week. The gap widened mainly in the second half of August, impacting the flow of remittances through official channels.
"Whenever the gap between official and unofficial markets widened, the remittances via banks and authorised exchange companies slowed down," he remarked.
Besides, Rauf said, economic slowdown and particularly the uncertainty in the real estate sector may have pushed scores of expatriate Pakistanis to avoid sending money for investment in property business.
Realty dealers used to claim in the good gone days that almost one-third of monthly remittances went into the property sector, which offered handsome returns on investments by overseas Pakistanis.
Another factor behind thin remittances could be the reluctance of some overseas Pakistanis to send more money to their family members and relatives back home because a sharp depreciation in the rupee-dollar exchange rate had made available more funds to local people in rupee terms, helping them to conveniently meet their necessary expenditures.
Rauf pointed out that some of the remittances were going to the Roshan Digital Account (RDA). However, inflows through the RDA have remained slow owing to lower returns on investment in Naya Pakistan Certificates compared to the return on investments being offered by developed countries.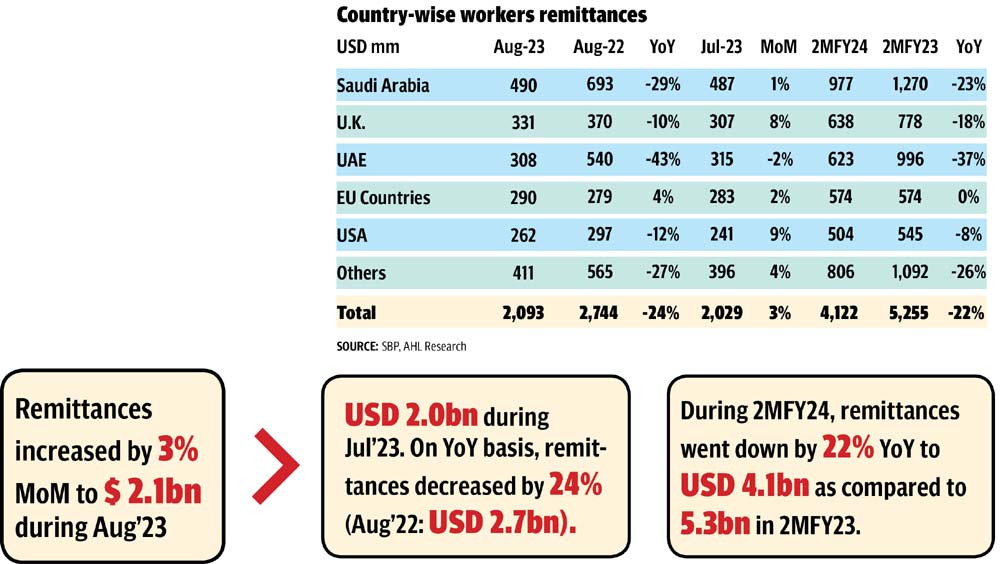 design: mohsin alam
"Pakistan can expect a gradual improvement in workers' remittances in the wake of a crackdown on currency smugglers and the elimination of a wide gap between exchange rates in the official and unofficial channels," he stressed. "We can expect workers' remittances amounting to around $2.3 billion in September 2023."
Inflows may improve to around $2.5 billion in the coming months and remain around that level if the rupee-dollar exchange rate stood stable and unofficial remittance networks stayed out of business, he predicted.
Country-wise inflows
The flow of remittances from Saudi Arabia dropped by 29% and reached $490 million in August 2023 compared to $693 million in the same month of last year.
Inflows from the United Arab Emirates (UAE) declined by 43% to $308 million in the month under review compared to $540 million in the corresponding month of previous year.
Overseas Pakistanis sent 10% lower remittances at $331 million from the United Kingdom (UK) in August compared to $370 million in the corresponding month of last year.
Remittances from the United States dropped by 12% to $262 million compared to $297 million last year while inflows from other countries declined by 27% to $411 million compared to $565 million in the previous year.
Inflows from the European Union member countries, however, increased by 4% to $290 million in August 2023 compared to $279 million in the same month of last year.