Love being your favourite child: Mawra Hocane pens heartfelt birthday wish for her mother
In a touching and heartwarming gesture, Pakistani star Mawra Hocane took to Instagram to shower her mother with love and well-wishes on the occasion of her birthday. The star shared a series of cherished family images alongside a heartfelt message, encapsulating the deep bond between her and her mother.
Mawra's Instagram post featured a selection of heartwarming photographs. Alongside these images, she penned a message that was filled with gratitude and love, saying, "Happy birthday mama…I am thankful for so many things but most importantly, thank you for making my dreams your own…for being brave through my decisions…for being my one and only person who took so much pride in everything I achieved and for caressing me when I took a fall…love you the most. I know this will be your happiest year, InshaAllah."
The message not only expressed love but also acknowledged the unwavering support and encouragement that Mawra has received from her mother throughout her life. It's a testament to the special connection shared by mothers and daughters, a relationship that often transcends words and speaks to the heart.
In addition to the heartfelt post, the actor also took to her Instagram Stories to share a collage of the same pictures featured in her main post, accompanied by solo images of her mother. She added a beautiful message alongside a picture of her and her mother, stating, "No matter where I am…I am so lucky to always make it for your birthdays…across cities or oceans…also, I love being your favourite child." In a sweet gesture of appreciation, she tagged her mother's account and concluded with, "Thank you for being the best human in my life MashaAllah."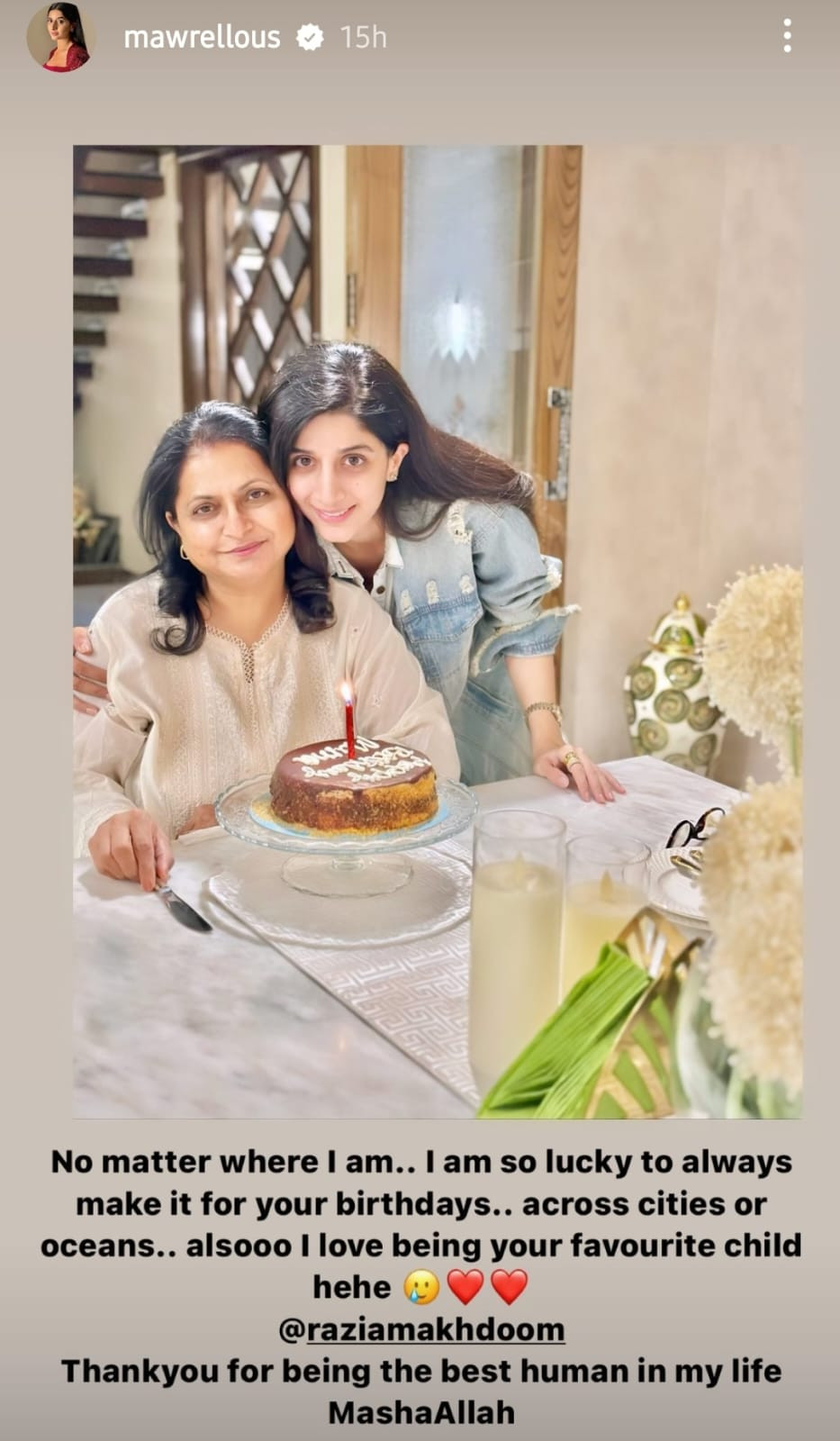 The heartfelt messages and the accompanying photos touched the hearts of Mawra's fans and followers on Instagram. The post and Instagram Stories resonated with the universal theme of love and appreciation.
Mawra, known for her acting talent and social media presence, has often shared glimpses of her family life, and this birthday tribute to her mother is another example of her heartfelt and genuine connection with her loved ones. As the star continues to captivate audiences with her work in the entertainment industry, it is evident that her family remains a significant source of strength and support.