Hope to show you how much you mean to me: Faysal pens heartfelt birthday wish for Sana
Pakistani actor Faysal Quraishi recently took to his social media to express his heartfelt birthday wishes to his beloved wife, Sana Faysal. In a touching post accompanied by a video slideshow showcasing cherished moments from their life together, Faysal conveyed his deep appreciation for Sana's unwavering support, love, and dedication to caring for him and their children.
"I know you do so much to care for the kids and me," penned Faysal in his birthday wish. "Sometimes I forget to thank you. On this birthday, I hope to show you how much you mean to me and how grateful I am that you are my wife. Happy birthday!"
Sana, deeply moved by her husband's heartfelt message, responded with a lovely note of her own. She expressed her profound gratitude to God for the blessing of having Faysal in her life, describing him as the best thing that has ever happened to her. Their exchange of love and warmth touched the hearts of their fans and well-wishers. In a comment, she said, "I am immensely grateful to Allah for the blessing of having you in my life. You are the best thing that has ever happened to me. Alhumdullilah. Thank you for your love and all that you do. Love you!"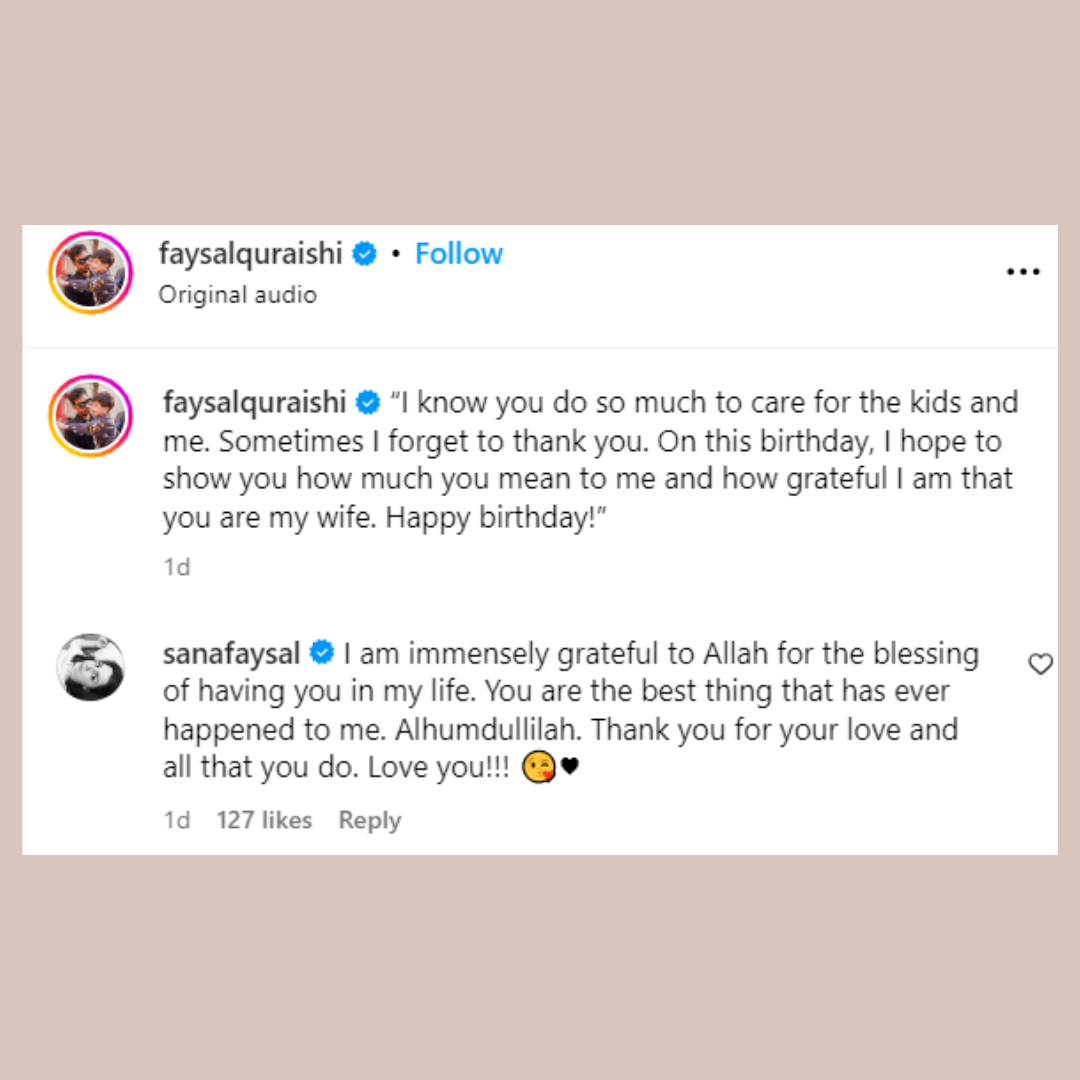 This heartfelt birthday wish and acknowledgement of their enduring love came shortly after the couple celebrated their 13th wedding anniversary on August 28, 2023. Sana commemorated this significant milestone with a social media post, sharing glimpses of their family life and expressing their joy in continuing their life journey together. Her post was captioned, "13 years and counting. Celebrating our everlasting journey," encapsulating the enduring love between Faysal and Sana.
Faysal and Sana's love story began when they tied the knot in 2010. Over the years, their bond has grown stronger, and they are now proud parents to two children, a younger son named Farmaan and an older daughter named Aayat. Faysal, who has been married previously, also has another daughter named Hanish Qureshi from his first marriage.
The couple's public displays of affection and the celebration of their milestones resonate with their fans, serving as a heartwarming reminder of the enduring power of love and togetherness. Faysal and Sana continue to build their family life while embracing the journey of life and love. Their beautiful love story remains an inspiration to many, and their well-wishers eagerly await more heartwarming moments from this lovely couple.