Faysal Quraishi will not celebrate birthday this year, asks fans to pray for Palestine instead
Pakistani veteran TV star, Faysal Quraishi, who celebrates his birthday on October 26, has come up with a 'heartfelt plea'. The actor recently took to social media and penned a note on how he doesn't want to have a birthday bash. this year, given the grim situation in Palestine. 
"Dear fans, friends, and family," the Bashar Momin actor wrote on his Instagram story. "Today, I come to you with a heartfelt plea. Considering the current situation in Gaza and the world around us, I find myself unable and unwilling to celebrate my birthday this year."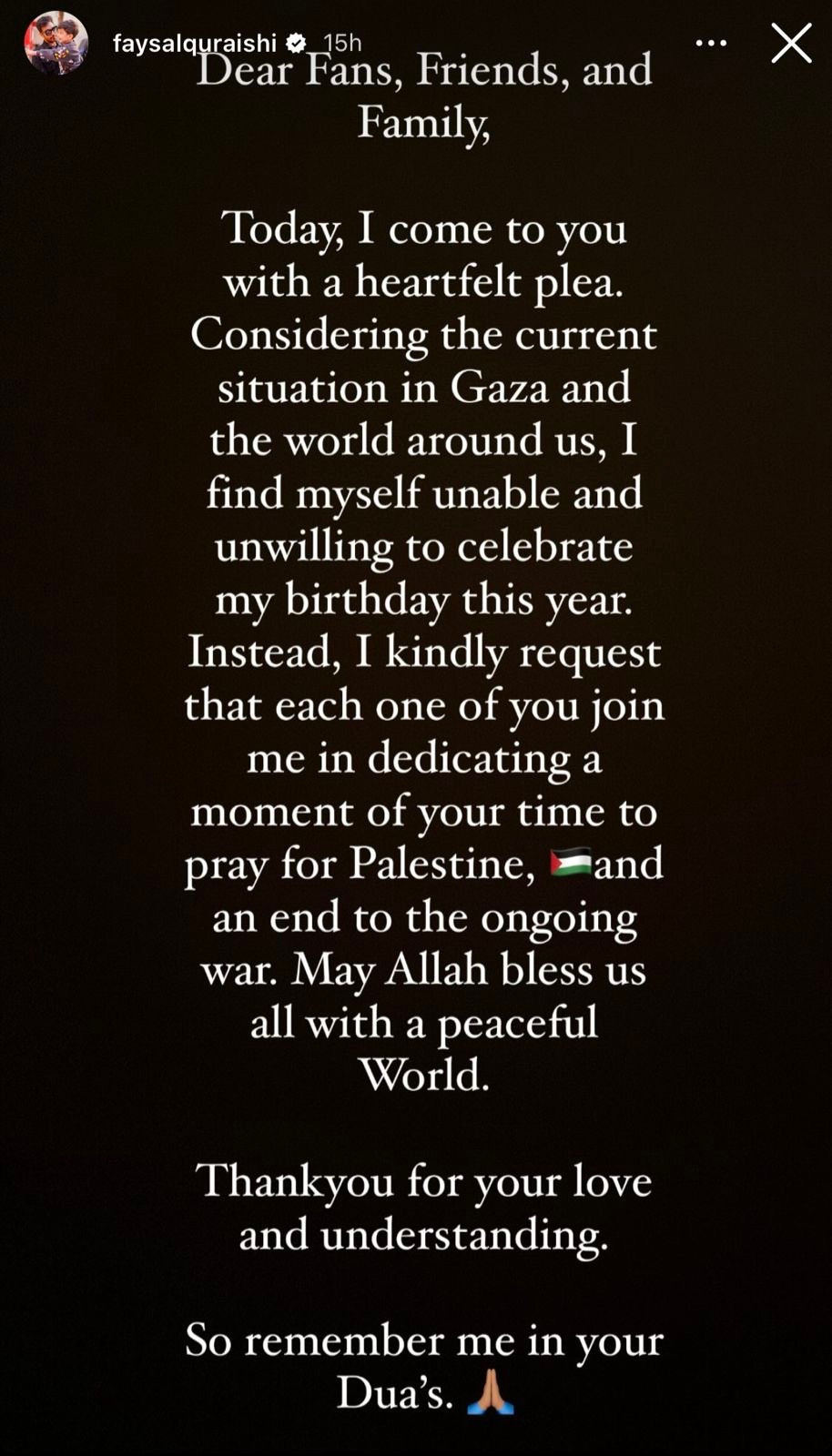 He further asked his loved ones to pray for Palestine. "Instead, I kindly request that each one of you join me in dedicating a moment of your time to pray for Palestine, and an end to the ongoing war." Faysal concluded, "May Allah bless us all with a peaceful world. Thank you for your love and understanding. So remember me in your duas [prayers]."
Pakistani celebrities are speaking up about the atrocities inflicted on Palestine by Israel with renewed fervour. Sharing feed posts on Instagram and taking to X, tackling misinformation and amplifying the dwindling number of stories coming out of Palestine, local stars are standing with Palestine – firmly and resolutely.
More than 700 Palestinians were killed in overnight Israeli air strikes, Gaza's health ministry said on Tuesday, the highest 24-hour death toll since Israel began a bombing campaign to crush Hamas fighters who stunned the country with a deadly Oct. 7 attack.