Deal inked for port development
ISLAMABAD: Pakistan and China have signed a new advisory deal for faster development of Gwadar Port aimed at giving a push to the strategically important pillar of the China-Pakistan Economic Corridor (CPEC) that is facing inordinate delays.
The advisory deal was among 20 agreements and memoranda of understanding (MoUs) that Pakistan and China signed mostly in areas recommended by China.
Two Chinese state institutes would provide technical, intellectual and consultation support "to help develop Gwadar Port in a better and faster way", read the MoU signed on Wednesday. They also signed an addendum to the Mainline-I project of CPEC for reducing its scope and design to construct the project within one-third reduced cost of $6.7 billion. The other important agreement was for strengthening mineral development and industrial cooperation within the CPEC framework.
Caretaker Prime Minister Anwaarul Haq Kakar and Chinese Premier Li Qiang met on sidelines of the 3rd Belt and Road Forum in Beijing and witnessed the signing of a host of agreements and MoUs including the expert communication mechanism for Gwadar Port development.
The Institute of Comprehensive Transportation of the National Development and Reform Commission (NDRC) of China and the Institute of Spatial Planning and Regional Economy of NDRC will provide assistance to the Gwadar Port Authority for faster development of the port.
Under the one-year MoU, China will provide assistance for port planning, construction, operation, logistics and industry.
The Gwadar Port has been described as the lynchpin and gateway to CPEC but its development is marred by a host of issues. Pakistan has not been able to construct world-class infrastructure and also could not populate the industrial areas for maximum utilisation of the port and its industrial zone.
The MoUs also include cooperation in areas of connectivity, food security and research, media exchanges, space cooperation, urban sustainable development, capacity building, mineral development and industrial cooperation, climate change and vaccine development, according to an announcement made by the PM Office.
During the first decade of CPEC, Pakistan received only $25 billion in investment against the announcement of a total of $62 billion and one of the reasons for the low investment was its failure to set up Special Economic Zones (SEZs).
PM Kakar has underscored the importance of CPEC for Pakistan's economy and noted with satisfaction its expansion into new areas of development including industrial development, livelihood projects, ICT, mining and mineral exploration and agriculture.
Pakistan has handed over operations of Gwadar Port to China but its utilisation remained negligible during the first 10 years of CPEC. The port is fully capable of handling general cargo and has achieved full operational capacity.
Around 12 major and small projects have been initiated in Gwadar but except for a couple of them, the rest are facing delays. This has caused problems in provision of uninterrupted supply of water, electricity and other services.
For the construction of additional breakwaters and berths, a project had been approved in the 5th Joint Cooperation Committee (JCC) meeting but its feasibility study has not yet been finalised due to certain observations raised by the Planning Commission.
The breakwater project is also proposed for the protection of the harbour from turbulence in the sea, especially during monsoon. This too remains incomplete.
There is also a plan to have a new berthing area of 900 metres but the project has remained in the pipeline for the past six years.
The Gwadar Free Zone that is planned to be constructed over 2,281 acres is so far limited to only the phase-I of 60 acres. Only 46 enterprises have registered for the free zone and 10 factories have been set up.
The Chinese firm submitted a plan for Gwadar investment and marketing in August 2019 but actual work has been limited to hiring a consultant. The consultant would make plans for the central business district and detailed topographic surveys.
The construction of New Gwadar International Airport began in 2019 and so far 76% work has been done. The second access road from coastal highway is under construction.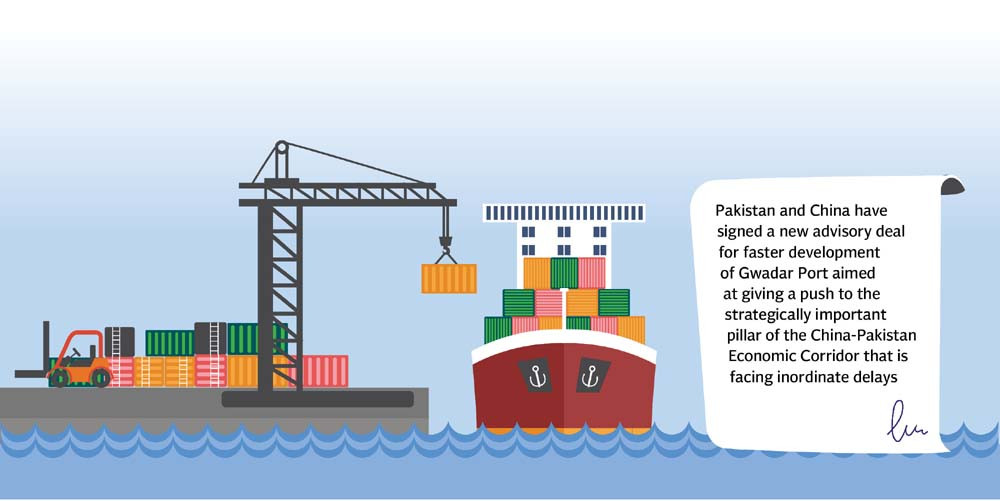 For Gwadar waste management, Pakistan is seeking a grant from China but the matter is pending due to non-submission of a revised application for the funding to Chinese authorities.
There was also a plan for establishing Gwadar Fish Harbour for relocation of the existing fishing port on Eastbay to Westbay. The project remains in the pipeline.
Pakistan is seeking a grant for construction of the fish harbor but the Chinese has not yet responded.
The Pak-China Friendship Hospital of 150 beds is expected to be completed by December this year. The Pak-China Technical and Vocational Institute has been operationalised with a $10 million Chinese grant.
Pakistan and China signed the agreement for mineral sector development and industrial cooperation under CPEC. This will facilitate in-depth cooperation in the fields of geology, mineral resources investigation, evaluation and development, mineral products development, processing and trade and investment promotion.
Joint geological and mineral surveys and digital geological mapping would be done under the deal. The focus will be on provinces that are rich in mineral resources.
China will provide technical training for Pakistani personnel in geological and mineral surveys and resources assessment. Both sides will cover their own costs in cases where no Chinese grant is available. The agreement has been signed for five years.