Common man finally gets some relief
ISLAMABAD: The federal caretaker government has made a substantial reduction in petrol prices, cutting them by up to Rs40 per liter, providing the much-needed relief to the people who have borne the brunt of a challenging economic crisis since mid-2022.
The price of petrol has been reduced from Rs323.38 per liter to Rs283.38 per liter, effective from today, October 16. This reduction is in line with fluctuations in global oil prices and the strengthening of the Pakistani rupee against the US dollar.
Petrol is predominantly used in motorbikes and cars as an alternative to compressed natural gas (CNG), especially in the Punjab province where indigenous gas is not available at CNG retail outlets.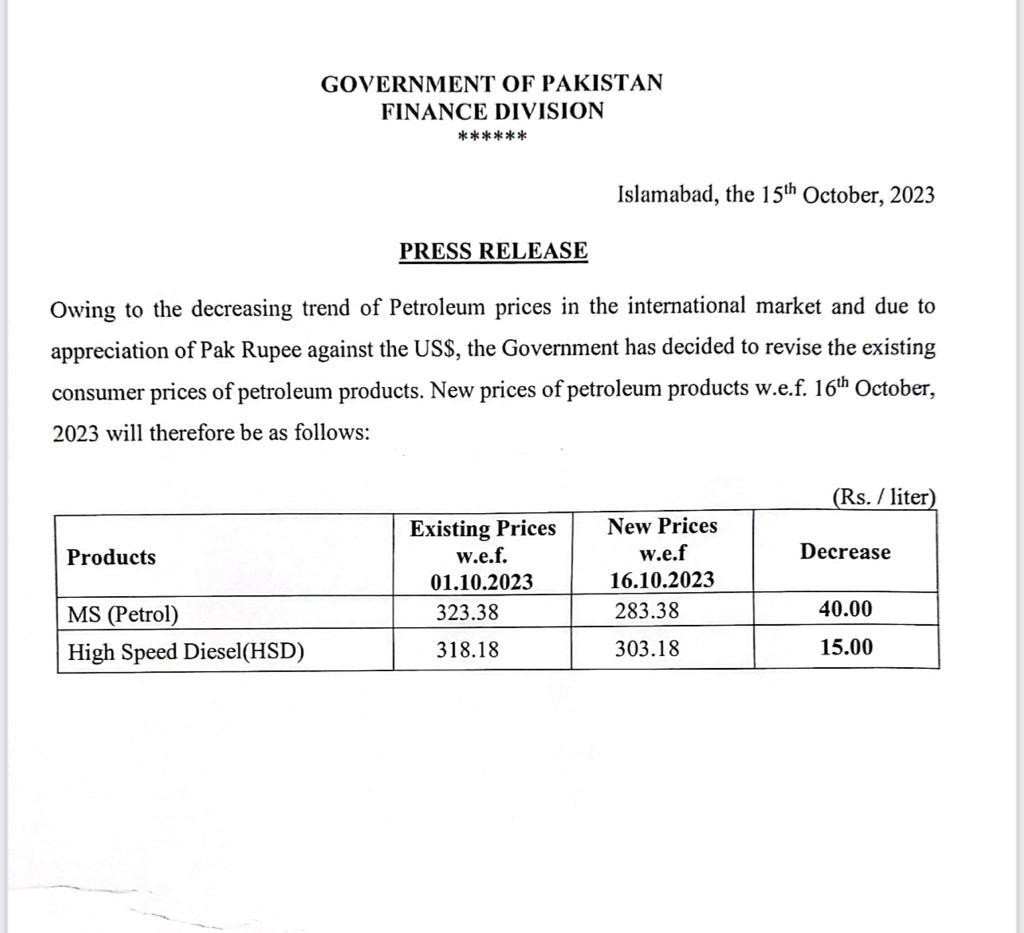 Liquefied natural gas (LNG) is used in CNG retail outlets in Punjab, but for the past couple of years, LNG has been unavailable due to the failure of Pakistan Petroleum Limited (PPL) to import it.
The private sector has struggled to import LNG since 2015, but gas utilities have thwarted these efforts, seemingly to maintain their monopoly.
The government has also reduced the price of high-speed diesel (HSD) by Rs15 per liter, bringing it down from Rs318.18 to Rs303.18 per liter. HSD is primarily used in the agriculture and transport sectors, and this price reduction may help alleviate inflation to some extent.
The price of kerosene oil, whose consumption increases significantly during winters in remote areas, has been reduced to Rs214.85 per liter, marking a Rs22.43 reduction per liter.
Kerosene oil is commonly used in stoves, particularly in remote areas, including the northern regions of the country. The Pakistan Army is also a major consumer of kerosene oil.
The government has increased the petroleum levy by Rs5 per liter on HSD, raising it from Rs50 to Rs55 per liter. A petroleum levy of Rs60 per liter is charged on petrol.
However, the government imposes zero sales tax on these two petroleum products. Sales tax revenue goes to the provinces, while petroleum levy revenue is collected by the federal government. This explains why the federal government reduced the sales tax to zero but continued to increase the petroleum levy.
In addition, the government imposes a petroleum levy of Rs50 per liter on the high-octane blending component (HOBC) and Rs32.56 per liter on E-10 gasoline. E-10 gasoline is a biofuel composed of 90% regular unleaded and 10% ethanol, a natural byproduct of plant fermentation.
The government collects approximately Rs75 billion in revenue from petroleum levy from oil consumers every month, according to some estimates.
Sources indicate that the prices of petroleum products on Platts, a price benchmark service for the oil industry, have significantly decreased, and the Pakistani rupee has strengthened against the US dollar. Over the past two weeks, the Pakistani rupee has gained an average of Rs7.50 against the US dollar.
The average prices of petrol and HSD on Platts, including incidentals and duties, are Rs233.49 per liter and Rs305.93 per liter, respectively.
The Pakistan State Oil (PSO), responsible for importing petroleum products, has been granted an exchange loss adjustment of Rs0.74 per liter on petrol.
The government has also increased dealers' margins by Rs0.41 per liter on petrol and diesel, raising them from Rs7.82 to Rs8.23 per liter.
Oil marketing companies (OMCs) have seen their margins increase by Rs0.33 per liter, from Rs7.08 to Rs7.41 per liter on petrol, and by Rs0.47 per liter on HSD, from Rs6.94 to Rs7.41 per liter.