Aid for Gaza piles up as Israel rallies troops for invasion
GAZA: Desperately needed international aid piled up Friday near Gaza, with Palestinians in dire need of food and water after relentless bombing by Israel, still reeling from the bloodiest attack in its history.
More than 3,785 Palestinians, mostly civilians, have died in the bombing, according to the latest toll from the Gaza health ministry.
Israel has vowed to destroy Hamas after the group launched an attack from the Gaza Strip on October 7
In response, Israeli warplanes have levelled entire city blocks in Gaza in preparation for a ground invasion they say is coming soon.
The United Nations says more than one million of Gaza's 2.4 million people have been displaced and that the humanitarian situation is worsening by the day, with no green light yet to send in the trucks lined up at the border.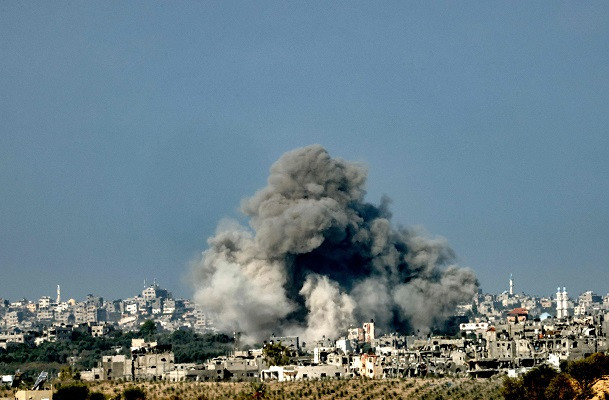 Medicine, water purifiers and blankets were being unloaded at El Arish airport near Gaza, an AFP reporter saw, with Ahmed Ali, head of the Egyptian Red Crescent, saying he was getting "two to three planes of aid a day".
The situation inside Gaza is "beyond catastrophic", said Sara Alzawqari, UNICEF spokeswoman for the Gulf. "Time is running out and the numbers of casualties amongst children are rising."
Egyptian state-linked broadcaster Al Qahera News had said the Rafah crossing — the only route into Gaza — would open on Friday, but Cairo later said it needed more time to repair roads.
In Geneva, the WHO's emergencies director called a deal struck by US President Joe Biden to allow in 20 trucks "a drop in the ocean of need". "It should be 2,000 trucks," Michael Ryan said.
Within Israel, still coming to terms with the deadliest attack in its 75-year history, the drumbeat of war was growing louder, as leaders rallied troops for a ground offensive.
Decked out in body armour, Israel's Prime Minister Benjamin Netanyahu visited front-line troops near Gaza, urging them to "fight like lions" and "win with full force".
Defence Minister Yoav Gallant also toured the front line, telling some of the tens of thousands of troops awaiting the ground invasion that new orders would come soon.
"Right now you see Gaza from afar, soon you will see it from the inside. The order will come soon," he said, predicting "difficult" battles ahead.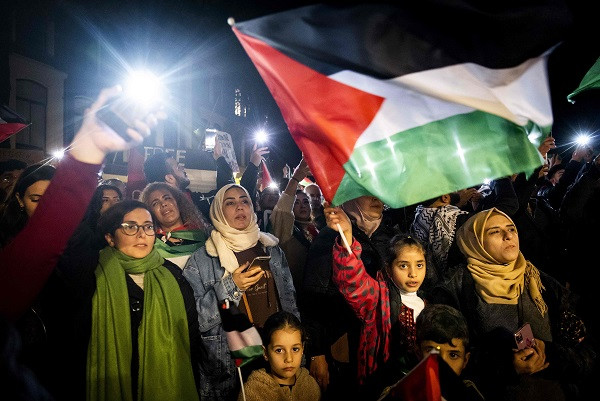 During a rare address from the Oval Office, Biden urged the United States to take the lead in supporting Israel and Ukraine, saying he would make an "urgent" request to Congress for aid later Friday.
"American leadership is what holds the world together," Biden said in just the second primetime speech to the nation of his presidency from behind the historic Resolute Desk.
While solidly backing Israel, he also pointed to the plight of those trapped in Gaza, saying they "urgently need food, water and medicine".
Fresh from a whirlwind trip to Israel this week, Biden is hoping to staunch the possibility of a wider Middle East war.
The United States has already moved two aircraft carriers into the eastern Mediterranean to deter Iran or Hezbollah, both allies of Hamas, from getting involved.
But fears of a wider conflagration are growing, with Israel announcing plans to evacuate the northern city of Kiryat Shmona after days of clashes with Hezbollah fighters along the border with Lebanon.
Key Middle East players Abdel Fattah al-Sisi of Egypt and Jordan's King Abdullah II have warned the conflict could spread and condemned what they said was the "collective punishment" of Gazans.
Meanwhile, the two sides continued to trade blame for deadly strikes, the latest coming at a church compound in Gaza late Thursday.
The Gazan interior ministry said several people sheltering at the church were killed and wounded, blaming an Israeli strike.
Witnesses told AFP the strike damaged the facade of the church and caused an adjacent building to collapse, adding that many injured people were evacuated to hospital.
The Israeli army acknowledged a wall of the church had been damaged in one of its air strikes targeting a "command and control centre belonging to a Hamas terrorist".